Description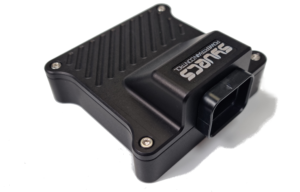 The Syvecs X4 Expander is a compact but very powerful expansion unit for enhancing the Input and Output compliment of a powertrain electronics installation.
The X4 is fitted with four Half Bridges drivers which are capable of driving Low, High or joined in pairs as a full bridge motor driver. Each of the four H-Bridge Outputs is equipped with a current monitoring circuit which can be assigned in strategies on Syvecs Engine Controllers or as Current Limiting functions in other applications.
Four MagnetoResitive circuits make reading the ABS sensors found on most new automotive applications easier by just needing to connect one side of the sensor to the X4 and the other side to Ground.
The four 0-5v Analog inputs are not capable of frequency detection but are useful for monitoring of switches, pressure transducer or positional sensors.
Able to withstand the toughest of conditions and high temperatures the X4 is useful for many applications whether it's for external Drive By Wire support, Electronic Wastegates, Fuel Pump Controller and more.
Two canbus interfaces are fitted on the X4 which are setup out of the box for Slave Control with a S7,S8,S12 Ecu or XCan Support for other Ecu's.
Outputs
4 Half Bridge Outputs (Supports: Full Bridge, Lowside or HighSide Drive)
15Amp Peak (100ms) 8Amp Continuous
Current Monitoring on each pin
Inputs
4 Analogue or switch inputs (0-5V) (Gen2 Version has Optional 3k pull-ups)
4 MagnetoResistive Wheel Speed Sensor Inputs
Interfaces
USB For Updates and Config
2 x CAN 2.0B interface for communication with other controllers or logging systems
1 x Kline Interface
Power Supply
6 to 26V input voltage range
Ignition Switch Logic with high current supply
Physical
IP67 Sealed in Automotive Spec -40c to 125c
34 way Superseal 1.0
89cm x  88mm x 40mm