ETS-G Wins GT-R World Cup -
2017
2018
2019
After what turned out to be a very emotionally charged weekend, Syvecs are happy to annouce that for a 3rd year in a row, Gidi Chamdi and his ETS-G GTR have taken the win at this weekends GT-R World Cup. 
To add to what is an already amazing achievement, ETS-G was on it's first outing since the full rebuild took place at Extreme Turbo Systems and it also managed to be the first GTR competeing in the cups 3 year history to get into the 6's!
Round 1 of Elimination: 
1.4 ET: 7.386
MPH: 171.200
1/8 ET: 4.833
Round 2 of Elimination: 
1.4 ET: 7.399
MPH: 186.760
1/8 ET: 4.929
Round 3 of Elimination: 
1.4 ET: 7.386
MPH: 171.200
1/8 ET: 4.833
Final Round of Elimination: 
1.4 ET: 7.087
MPH: 210.970
1/8 ET: 4.812
We are immensly proud to be the ECU of choice for both Gidi and Extreme Turbo Systems.
3 years is a very long time in any motorsport, to have back to back wins at any event is a remarkable achievement, but to do so at the top level is something that should be quite rightfully applauded. 

To be the one the rest of the GTR world are gunning after means you are doing something right. 
Gidi, congratulations to you and your team from everyone here at Syvecs HQ, we are looking forward to seeing you in action at the TX2K. 
Overnight Cars From Puerto Rico
Fiebruz Motorsport takes 2nd Place
The team from Fiebruz should win a prize for the sheer effort they put into getting their car stateside ready for the practice/Qualifying rounds. 
Social media channels where buzzing with photos of their GTR strapped and loaded in the cargo hold of a plane ready to fly to Florida.
Not only did they make it across to the World Cup venue, but the team starting laying down some serious times from the get go. They also made quite a few friends off the strip with pretty much everyone there remarking how awesome/friendly the team were. 
The Journey to the World Cup – in their words:
"We registered the car back in December thinking it was ready, we took the car to the race track for a test and tune session and to practice the strategies for the event.
Wayne Potts visited us for a few days and helped with updating the Syvecs setup to the newer version of the Can Bridge and to help us with the overall  preperation for the race.
The plan was to have the car ready to ship by early January to Florida. However during our testing we learned it had some issues with the flywheel that ended damaging the billet crankshaft.  We had a spare, so we set about taking the engine out and refreshed it over the Christmas period.
In early January we went back to the track again and during a  test run we managed to blow up a turbo (they had been used and abused for a long period of time).
At this point we thought we were out of the competition since the last day available to ship the car was January 21, it was due to this window that we were working under so much pressure, since we wanted to attend so badly.
We ordered new turbos, but we were too late to ship the car.
It was at this point our business partner and car owner Ruben told us that if we were able to finish the car and manage to have  it tested a week before the event, he was good with sending the car in a cargo plane. So it happened! The guys finished the car and the rest is history.
About the event, here is a short brief:
1. Thursday (Private Test n Tune):
1st Pass: 8.39 @ 196MPH (off the trailer)
2nd Pass: 7.63 @ 199MPH (PB MPH)
2. Friday (Day 1 Test n tune and Qualifying):
We were all day fighting with the short track strategy, but we found at the end of the day that we were having issues with the rear wheel speed sensors, they stopped reading at 41mph and fronts were reading good.
At the very end of the day we disconnected the ABS unit and used the Syvecs car code designed for cars without ABS, and the problem was solved, but this left us with no more time for testing.
 3. Saturday (Day 2 last qualifying and eliminations)
Q4 – 7.8 @ 190mph

Eliminations 1st Round –
OB Prestige/AMS run resulted in a red light and we went straight to the finals vs Gidi.
It looks like Friday we damaged something in the engine trying to sort out our problem and it took us out of the competition without being able to make the last pass with Gidi and his ETS-G.
We were never able to work in the short track strategy, because of the issues we had on Friday, but we know the car has a low 7 sec pass and a possible 6 sec if all the planets aligns for us!"
Car Specs:
3.8L engine (OEM Nissan Block)
76mm turbos
Ethanol / Nitrous
3,450 lbs (without driver)
28×10.5-15 tire (small tire)
Prime Cuts - Proven Outlaw
Jordan Martin & Prime Cuts Win Outlaw Class
Prime Cuts was one of the more distinguishalbe cars competing at the event over the weekend, sporting its copper on black look. The car was running an AMS Performance Alpha X package with a duel fuel methanol/gasoline setup and a 76mm inducer in stock location.
Jordan Martin had a fantastic event with solid results round after round.
All of this was topped of by winning the Outlaw Class. 

Jordan, congratulations from all of the team here at Syvecs HQ and hope to see you out fighting again soon. 
Round 1 of Elimination: 
1.4 ET: TBC
MPH: TBC
1/8 ET: TBC
Round 2 of Elimination: 
1.4 ET: 7.233
MPH: 199.15
1/8 ET: 4.765
Final Round of Elimination: 
1.4 ET: 7.111
MPH: 203.38
1/8 ET: 4.703
Where's Wally? Way off in the distance!
David Rohrschneider and his Alpha 10X Stock location GTR, had one hell of a weekend, with both ends of the emotional spectrum being visited by the end of it. 
Working like a demon to get the car back from a qualifying round that caused him to need a new transmission, almost catching fire with an oil leak, David came back strong and managed to run a new world record for the 58mm class record. 
Unfortunatly his time was cut short after falling foul of the 1/8th mile speed limit which lead to his disqualification. 
However, I have no doubt we will see David back in the hot seat very soon and with the intention of pushing the car just that little bit further.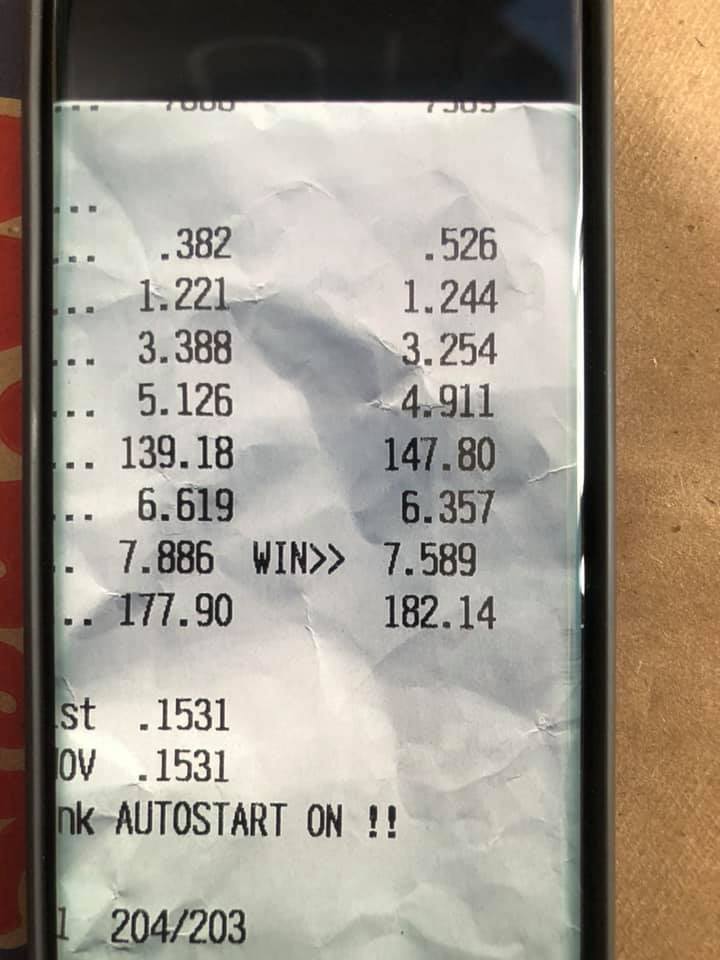 Davids Record Time Slip
An amazing achievement by David and all of the team involved with running the car.
David piloting his car like a pro on the run before his 7.58 session. Superb shot of our Dash too!
Spirit Of The Cup - Alpha Queen
OBPrestige and the Alpha Queen unfortunately did not make it through to the final round of elimination, however we thoroughly enjoyed seeing Oliver and the team working hard to keep the cars that were still in the competition running.
From loaning out transmissions to welding setups, it seems the team were busy being the GTR Fairies granting wishes and extra lives in their wake. 
We all know Alpha Queen has it in her to pull off something magical, we are awaiting the next chance for the team to prove themselves with baited breath. 
Syvecs wants to thank AMS and OB for choosing us as their ECU and for being such good representatives for the GTR scene in general. 
We also had Tym Switzer and Parin Shah running at the event and their cars had a fair old crack at it. 
Tym and the Switzer GTR unfortunatly ended up breaking a gear in the eliminations which ended their run. However for a car running stock block, crank and head they pulled in a 7.54 qualifier and managed to also record a 7.52 at 188.9. 
Tym is pretty relaxed about the gear breakage, having beaten it to death over the past year,  and he knows the car has "a lot" more inside her to unleash next trip out. 
Parin made it through to the second round of the eliminations in the Outlaw class, running a 7:320 @184.230. 
However I won't go into too much detail as I hope to have a small feature on his car sometime soon. 
To finish off, we would like to thank the following :
Boyan Radomirov – BRCalibration
Wayne Potts – ISC Tuning
Romain Levesque – RaceCal Ltd
Extreme Turbo Systems
AMS Performance
Switzer Performance
Chicago Motor Cars
OB Prestige
Fiebruz Motorsport
The GTR Cartel Twins
Chadbee Photography
1320Video & Scott Witty
Status Factor
The staff and marshalls from Bradenton Motorsports Park
And finally Eric Gaudi , Arne Toman and Parin Shah for organising such an amazing event.
Here is to a safe race season ahead. 
Syvecs Cartel – Send It 
Nissan R35 GTR - S7Plus 2020+

Syvecs SGTR Kit brings a new level of engine management control to the Nissan R35GTR – Unleash and protect your investiment today!

SDM300/500/500GPS Dash Displays

A dedicated ECU control display page allows easy selection of different ECU maps (ECU calibration switch) as well as switching of ECU functions such as ALS (anti-lag) and launch control. The user can manipulate these ECU settings either via the supplied SDM-Joystick (SDM-500/500 GPS) or the side keys on-the-fly, without the need for a PC.