Description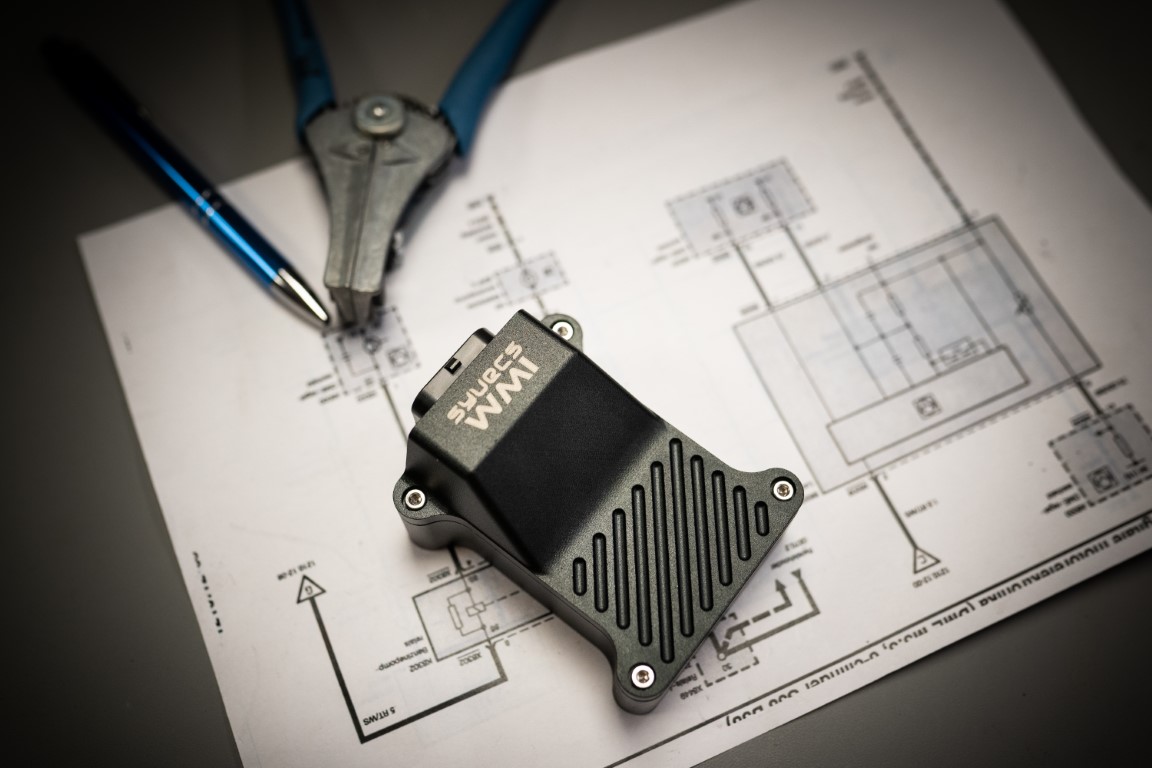 The Syvecs WMI standalone controller is a compact but very powerful unit for controlling a complete WMI electronics system, safely and correctly. It has been designed to integrate into any car easily via the use of CANbus communications, allowing users to receive critical engine data from OEM or aftermarket engine ecus with the use of just 2 wires (does not need a Syvecs Engine ECU). This data can then be linked into the WMI controller for use in strategies or monitoring systems to provide a modern based control system with safety in mind. Additional sensors can also be connected to the controller to provide more data to further add safety into the system, like a Level Sensor, Flow sensor and Pressure sensor. If CANbus is not supported on the installed vehicle then the WMI unit will also allow RPM and Injector Duty to be picked up from wires in the original engine loom.
Advanced users can also setup custom can transmit option with the powerful CANbus section to allow bits or bytes to be sent on the OEM CANbus to invoke ECU Lights, Torque Limits and more.
The WMI controller is fitted with four Half Bridges drivers which are capable of driving Low or High and able to handle a maximum of 15amps peak/8amp continuously each. Pin Sharing is also available for the WMI Pump and Solenoid to handle double the current capabilities of a single pin.
Each of the four H-Bridge Outputs is equipped with a current monitoring circuit which is used part of the limp protection strategies to ensure solenoids are connected correctly and not shorting. If the WMI Solenoid or Pump is driven and no current flow is detected it will immediately invoke a Limp flag which can warn the users via a LED Output, CAN message to a dash or torque limit to an engine ecu. The same goes for a short circuit in the wiring causing a over-current situation which will set a limp flag as well and shutdown the output for safety.
The four 0-5v analog inputs fitted on the controller can be used for external switches, sensors or trim pots via the Scal – Pin assignment setup which is fully flexible.
Four PWM inputs are also fitted on the controller that can be used for Flow sensors, Rpm Signals and Injector Duty pickup.
Two CANbus interfaces are fitted on the WMI Controller which are flexible for transmitting any of the WMI parameters on the canbus. Receiving data is also possible from a Syvecs Ecu, OBD2 Protocol or a selection of supported OEM DataStream's listed below:
Currently the following Cars are supported but check the Syvecs Forum for WMI firmware updates as more cars will be added.
Audi Mk2 TTRS / RS3 - Supports: Rpm, Tps, Pps, Torque Actual, Torque Demand, ECT, EOT, Gear, BrakeP, Speeds, LatG, LongG
Audi Mk3 TTRS / RS3 / S3 - Supports: Rpm, Map, Tps, Pps, Cal Selection (Drive Mode), Torque Actual, Torque Demand, ACT, ECT, EOT, Gear, BrakeP, Speeds, LatG, LongG
Audi R8 Gen1  - Supports: Rpm, Tps, Pps, Torque Actual, Torque Demand, ECT, EOT, Gear, BrakeP, Speeds, LatG, LongG
Audi R8 Gen2  - Supports: Rpm, Map, Tps, Pps, Cal Selection (DriveMode), Torque Actual, Torque Demand, ACT, ECT, EOT, Gear, BrakeP, Speeds, LatG, LongG
BMW E46  - Supports: Rpm, Tps, Pps, Torque Actual, Torque Demand, ECT, EOT, BrakeP, Speeds
BMW E92  - Supports: Rpm, Tps, Pps, Torque Actual, Torque Demand, ECT, EOT, Gear, BrakeP, Speeds
Corvette Z06  - Supports: Rpm, Tps, Pps, Torque Actual, Torque Demand, ECT, BrakeP, Speeds
Evo X - Supports: Rpm, Map, Tps, Pps, Cal Selection (SportMode), Torque Actual, Torque Demand, ACT, ECT, EOT, Gear, BrakeP, Speeds, LongG
GT86/BRZ - Supports: Rpm, Tps, Pps, Torque Actual, Torque Demand, ECT, EOT, Map1, BrakeP, Speeds
Honda FD2/FN2 - Supports: Rpm, Map, Tps, Pps, Torque Actual, Torque Demand, ECT, BrakeP, Speeds
Honda FK2/FK8 - Supports: Rpm, Tps, Pps, Torque Actual, Torque Demand, ECT, EOT, Map1, BrakeP, Speeds, LatG, LongG
Infiniti Q60 - Supports: Rpm, Tps, Pps, Cal Selection(SportMode),, Torque Actual, Torque Demand, ECT, Gear, BrakeP, Speeds, LatG, LongG
Lamborghini LP520 - Supports: Rpm, Tps, Pps, Torque Actual, Torque Demand, ECT, EOT, Gear, BrakeP, Speeds, LatG, LongG
Lamborghini LP560 - Supports: Rpm, Tps, Pps, Torque Actual, Torque Demand, ECT, EOT, Gear, BrakeP, Speeds, LatG, LongG
Lamborghini Huracan - Supports: Rpm, Map, Tps, Pps, Cal Selection(SportMode), Torque Actual, Torque Demand, ACT, ECT, EOT, Gear, BrakeP, Speeds, LatG, LongG
Lamborghini Aventador - Supports: Rpm, Map, Tps, Pps, Cal Selection(SportMode), Torque Actual, Torque Demand, ACT, ECT, EOT, Gear, BrakeP, Speeds, LatG, LongG
Mclaren 12C, 650S, 675, 570, 600, 720, 765, P1 - Supports: Rpm, Map, Tps, Pps, Cal Selection(ACTIVE SYSTEM),Torque Actual, Torque Demand, ECT, Gear, BrakeP, Speeds
Mercedes Gen1, C63, E55 - Supports: Rpm, Map, Tps, Pps, Torque Actual, Torque Demand, ECT, Gear, BrakeP, Speeds
Mercedes Gen2 C63, SLS - Supports: Rpm, Tps, Pps, Cal Selection(SportMode), Torque Actual, Torque Demand,ACT, ECT, EOT, Gear, BrakeP, Speeds
Nissan 370Z - Supports: Rpm, Map, Tps, Pps, Cal Selection(SportMode), Torque Actual, Torque Demand, ECT, EOT, Gear, BrakeP, Speeds, LatG, LongG
Nissan Patrol Y61- Supports: Rpm, Tps, Pps, Torque Actual, Torque Demand, ECT, Gear, BrakeP, Speeds, LatG, LongG
Nissan Patrol Y62 - Supports: Rpm, Map, Tps, Pps, Torque Actual, Torque Demand, ECT, EOT, Gear, BrakeP, Speeds, LatG, LongG
Nissan R35GTR - Supports: Rpm, Map, Tps, Pps, Cal Selection (RMode), Torque Actual, Torque Demand, ECT, EOT, Gear, BrakeP, Speeds, LatG, LongG
Porsche 991 / 981 / GTS / GT2RS / GT3 - Supports: Rpm, Map, Tps, Pps, Cal Selection(SportMode), Torque Actual, Torque Demand, ACT, ECT, EOT, Gear, BrakeP, Speeds, LatG, LongG
Porsche 996 - Supports: Rpm, Map, Tps, Pps, Cal Selection(SportButton), Torque Actual, Torque Demand, ECT, EOT, Gear, BrakeP, Speeds
Porsche 997 / 987 - Supports: Rpm, Map, Tps, Pps, Cal Selection(SportButton), Torque Actual, Torque Demand, ECT, EOT, Gear, BrakeP, Speeds, LatG, LongG
Simos 18 - Supports: Rpm, Map, Tps, Pps, Cal Selection(DriveMode), Torque Actual, Torque Demand, ACT, ECT, EOT, Gear, BrakeP, Speeds, LatG, LongG
Syvecs S7 Fixed Stream - Supports: Rpm, Map, Lam1, FuelDuty, Tps, Pps, Cal Selection(CalSelect), Torque Actual, Torque Demand, ACT, ECT, EOT, Gear, BrakeP, Speeds
Toyota Yaris Gr, Corrola, LandCruiser 21+ - Supports: Rpm, Map, Tps, Pps, Cal Selection (AWDMode), Torque Actual, Torque Demand, ECT, EOT, BrakeP, Speeds, LatG, LongG
Toyota LandCruiser 2015 / Lexus LX570 - Supports: Rpm, Map, Tps, Pps, Torque Actual, Torque Demand, ACT, ECT, BrakeP, Speeds
VAG ME7 - Supports: Rpm, Tps, Pps, Torque Actual, Torque Demand, ECT, EOT, Gear, BrakeP, Speeds, LatG, LongG
VAG ME9 - Supports: Rpm, Tps, Pps, Torque Actual, Torque Demand, ECT, EOT, Gear, BrakeP, Speeds, LatG, LongG
VAG MED17 - Supports: Rpm, Map, Tps, Pps, Cal Selection(DriveMode), Torque Actual, Torque Demand, ACT, ECT, EOT, Gear, BrakeP, Speeds, LatG, LongG
VW Golf Mk5/6 / TFSI / TSI, Cupra, Audi S3 - Supports: Rpm, Tps, Pps, Torque Actual, Torque Demand, ECT, EOT, Gear, BrakeP, Speeds, LatG, LongG
VW Golf Mk7 MQB, Seat MQB, Audi MQB - Supports: Rpm, Map, Tps, Pps, Cal Selection(DriveMode), Torque Actual, Torque Demand, ACT, ECT, EOT, Gear, BrakeP, Speeds, LatG, LongG
---------------------------------------------------------
ECU Manufactures CAN supported:
Motec M1 - Supports: Rpm, Map, Tps, Pps, Cal Selection, Torque Actual, Torque Demand, ACT, ECT, EOT, Gear, BrakeP, Speeds, LatG, LongG, FuelDuty
Syvecs Streams - Supports: Rpm, Map, Tps, Pps, Cal Selection), Torque Actual, Torque Demand, ACT, ECT, EOT, Gear, BrakeP, Speeds, LatG, LongG, FuelDuty
ECUMaster - Supports: Rpm, Map, Tps, Pps,ACT, FuelDuty
---------------------------------------------------------
OBD2 Support - Supports: Rpm, Tps, Torque Actual, Torque Demand, Maf1, Map1, ACT , Lam1, Speed
Key Features:
Monitoring of Pressure, Flow, Level, Lambda, Current and Temperatures
Limp mode for all sensors and data
CANbus support for Many OEM Cars and Ecu's
Set OEM Engine Check light when in Limp, only on supported models
Analogue support for Engine Speed, Air Temp, Manifold Pressure, Injector Duty if Canbus not available
Current monitoring of each output with Limp protections
Closed loop direct pump control
Dual Solenoid Control
Live Map Switching from External Switch or OEM CANbus data
Simple installation
Output Testing logic
Custom Can Transmit to forward data to loggers/ecu
Supports high current demand with pin sharing technology
Fully configurable via Scal Software
Specification
Outputs
4 Half Bridge Outputs
15Amp Peak (100ms) 8Amp Continuous
Current Monitoring on each pin
Inputs
4 Analogue or switch inputs (0-5V)
4 Hall Effect / PWM inputs (0-5V)
Interfaces
USB For Updates and Config
2 x CAN 2.0B interface for communication with other controllers or logging systems
1 x Kline Interface
Power Supply
6 to 26V input voltage range
Ignition Switch Logic with high current supply
Physical
IP67 Sealed in Automotive Spec -40c to 125c
34 way Superseal 1.0
88mm x 89mm x 40mm