Description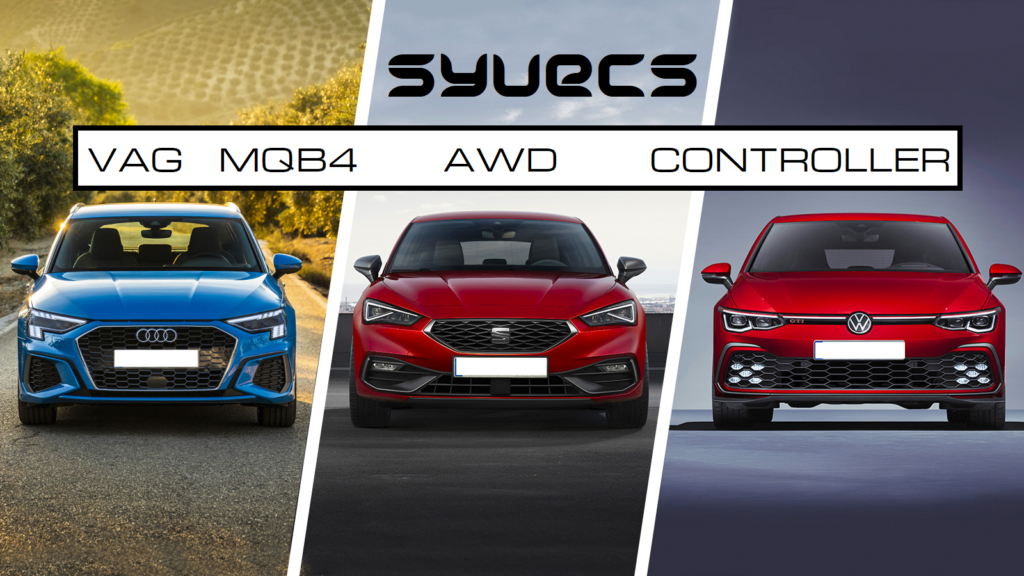 The Syvecs MQB AWD module is a standalone AWD/4WD/Centre Diff controller designed to control the haldex system in the VAG group 4 Cylinder MQB cars. This includes the following and more.
Audi S3
Seat Leon Cupra
VW Golf R7.1
VW Golf R7.5
Please note this unit will not work with the RS3/TTRS, you will require the Special controller from Iroz motorsport for this. Please see the dedicated product page for the RS3/TTRS 4wd module
The OEM haldex controller are locked down and not adjustable, but by simply fitting our AWD Module a whole new level of control is available. The unit allows users to optimise control and provide the best performance available from the powertrain.
The MQB version of the controller replicates all the OEM CAN information as well as pick up lots of variable from the OEM Can to link into the control strategies like Steering Angle, Brake Pressure, Rpm, Tps, Lateral G, Yaw, Long G, Speeds, Temperatures and mode switches
Limp Protection options for large slip, high current, high temps which warn the driver but keep awd active unlike the OEM controllers which shut down the outputs which is not ideal with high horsepower!
Works with any Engine management system
The Drive Mode Button on the MQB is used for Map switching so allows users to be able to change between Awd Select 1, 2, 3 which means all the maps below can be adjusted. You can also enable the burnout mode to be active when Hazards are on or if handbrake is present.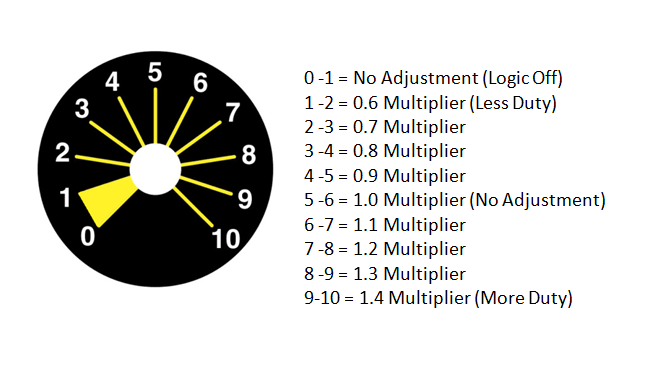 With the use of our Scal Software, users can connect to the Device and adjust over 40 maps to adjust the control of the solenoids/motors used in the AWD systems.
Live adjustment potentiometers which gives drivers the ability to adjust the AWD Duty on the move or go 2wd from the flick of a switch.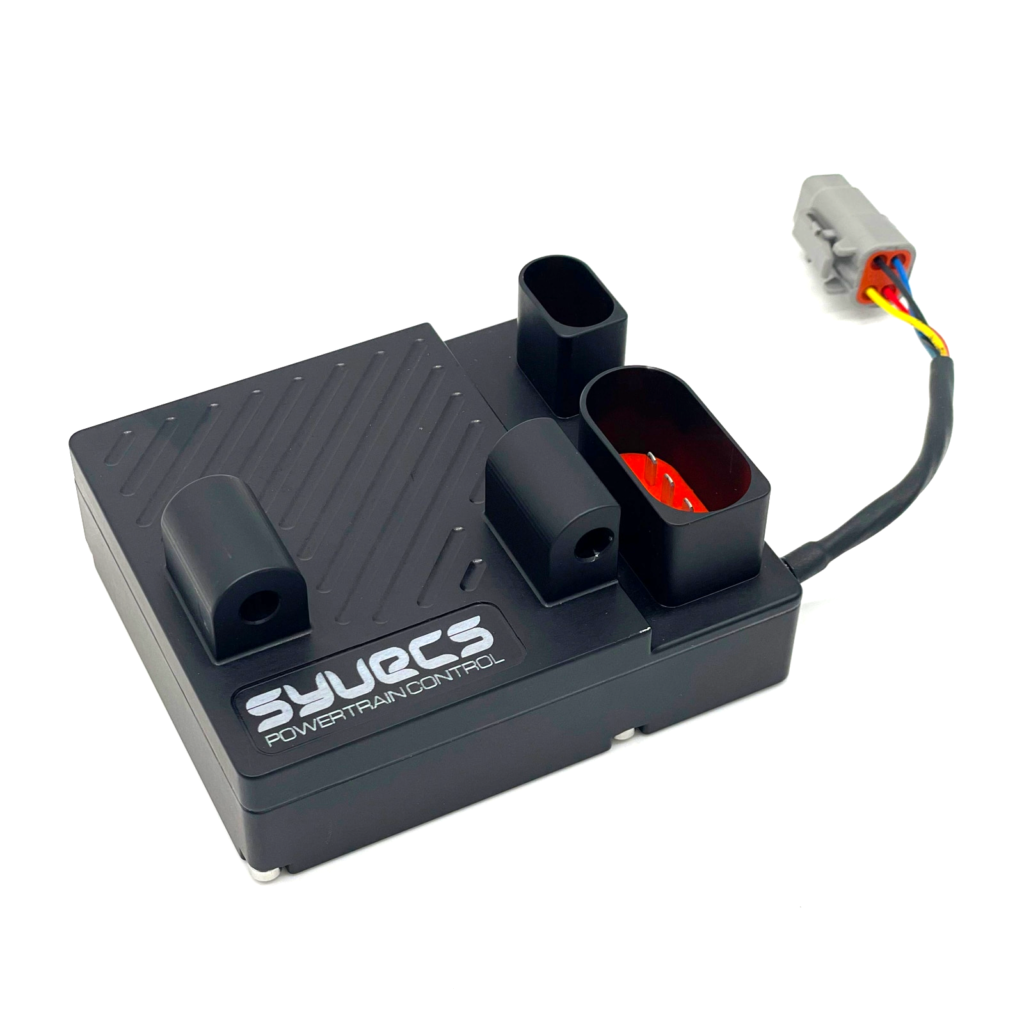 Some of the Maps available
4 x Base Duty Tables
4 x Adders with enable maps:
Left Foot Braking
Front Slip
Rear Slip
Centre Slip
4 x Multipliers with enable maps
Steering Angle
AWD Temp
AWD Pressure
AWD Potentiometer
Tyre Diameter adjustment under sensors
2WD/ Burnout Mode 
Via Dedication Switched input
Via Can bus Message
Via OEM Functions
Limiters
Maximum Duty
Launch Control Limit
Duty Rate of Change
Decay/Hold Functions
Limp Mode
Over Current Protection
Over Slip Protection
Over Temp Protection
Cooling Pump control
AWD Cooling pump control logic
Datastream
The Syvecs AWD Unit also has a dedicated Can bus transmit area where users can send variables from the AWD to external control units for monitoring or to OEM Canbus system via custom Identifiers and byte structuring
Sensors / Switches
External sensors can be connected to the AWD module and then linearized in our Scal Software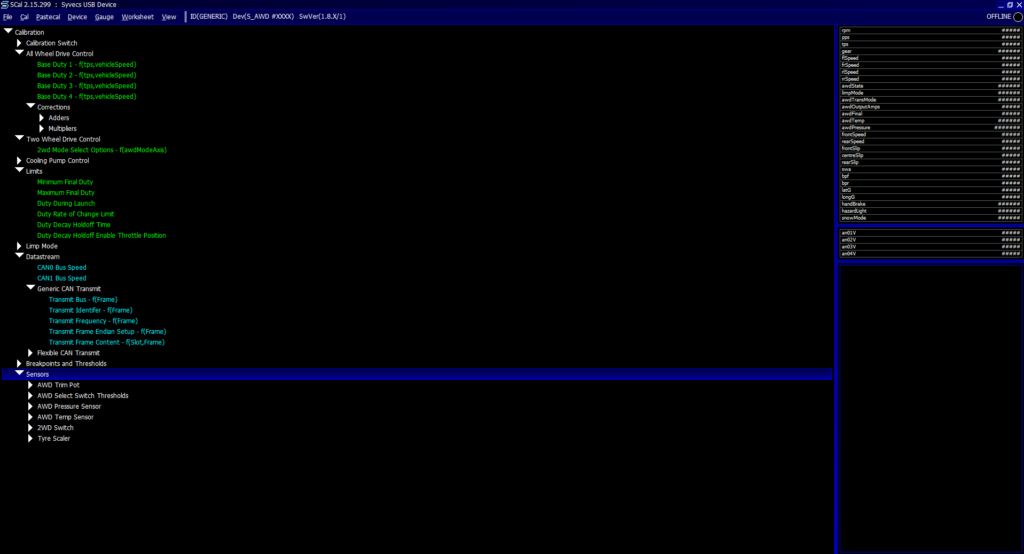 When the AWD is fine tuned to suit torque and chassis setups then huge improvements can be gained with our modules in acceleration as Adam showcases below
SPECIFICATIONS:
Maximum of 30 Amps via pin sharing (HBR1&2 or HBR3&4)
Onboard Current Monitoring of each output
2 x CanBus - Configurable Transmit Via Scal Program
4 x Analog inputs for assigning Burnout Switch, Adjustment Pot, Pressure sensor and Temp sensor.
4 x MagnetoResistive ABS Sensor Inputs for direct Speed monitoring
USB Connection - Dedicated Scal software with full calibration control
VCDS Support - Communicates with OEM Tools and Replicates OEM Haldex Ecu's
Mains Power control circuit based from Ignition Switch
Reverse Polarity Protection
Weatherproof Enclosure
125c Temperature capable
6v to 25v capable