Hey,
As my old ignition coil cracked, I've decided to get rid of the distributor as well and go for a coil on plug conversion with 1zz-fe coils. The Engine is running great with Ryan setting it up perfectly as usual

The only problem at the moment is that my tacho istn' showing the rpms the engine is doing. Speedo is working fine.
So I read something about that common problem and noticed that I will have to replace the resistor in the tacho with a smaller one, or even completely remove it, which I already did.
The only Thing left to do is connecting the ECU to the tacho and most probably configure the ECU correctly. This is where I would need some help, I'm afraid.
I wanted to do the following:
1. Assign the output "Tacho" on the I/O configuration to a free pin (e.g. PWM08: CTL068 on my setup as shown on the screenshot that I took.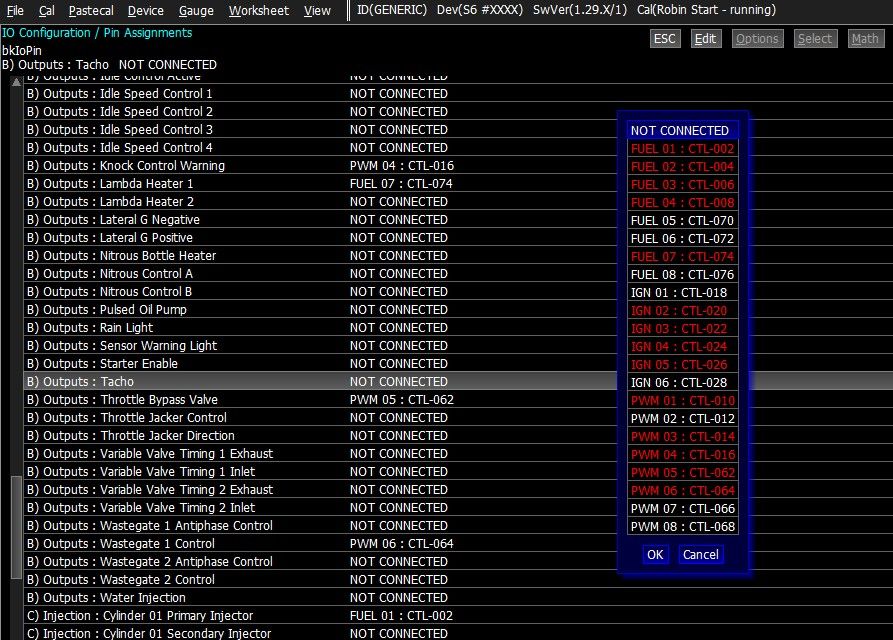 2. Connect this assigned pin of the ECU (PWM08 should be pin 16 on the ECU, right?) to the correct wire of my car (which I already found, the black one, pin 5 on the EA3 Connector in the engine room fuse box. I can take a picture if anybody else want to do this conversion and needs help in the future.)
The thing is, is my guess with choosing "Output Tacho" for the rpm signal correct? Or is it maybe "Engine Speed Controlled A" or maybe "B"?
And is the PWM-signal correct for the MR2 tacho? Or do I need an IGN or FUEL output, which I don't think.
Thanks for any assistance
Robin